Being honoured with a Weidenfeld-Hoffmann scholarship, I decided to study activism in Russia and China.
I set off to Kunming, the capital of Yunnan province to find relevant initiatives and to get to know young people who voluntarily work for the improvement of the society.
Fortunately, I didn't need to look for long – in the University I am affiliated with there was a recruitment to volunteer at the Happy Ark school for migrant workers' children.
Happy Ark has been established a year ago by a Malaysian Chinese couple and operates as a charity. It is located in Kunming's slums… What once was a village with farmers now has been "developed" to narrow sets of crowded streets, with cheap but tall buildings.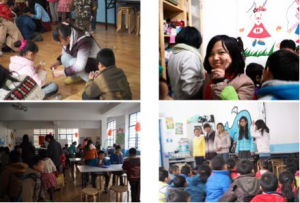 No wonder that this area of the city feels like "another world" with strong smell of alcohol, people on the streets making fire to keep them selves warm and policemen patrolling every corner. While the parents are trying to make their ends meet, children are wandering around those streets. In China, when the school finishes in the afternoon, most children spend their time doing homework, playing sports, and attending additional classes such as music or language. But what about families that can't afford extra- curriculum education?
Happy Ark is providing high quality free after-class education and mentoring. Children arrive rafter lunch to attend classes and make their homework under the supervision of the volunteers. The classes are arranged around different themes related to such as optimism, compassion, work, and others. Pupils have sports, drawing and English language classes and have time to do their homework.
Children get stickers if they come to school every day during the week. On Saturdays they can exchange their stickers for presents such as toys, pens, stationery items. Every category of presents has a different price – so the children have to make decisions if they want to exchange what they have 2 right away, or make a longer-term commitment of attendance to get more "expensive" presents later. Also for every correct response to different question, a pupil gets a little present – like a sticker and a bookmark.
I tried to teach English and sports by using their methods and I have found these little tricks very useful. First, in general, due to an authoritative-style traditional education, Chinese pupils are usually not proactive. These children were so enthusiastic to take part in every lesson and activity and their progress was just astonishing!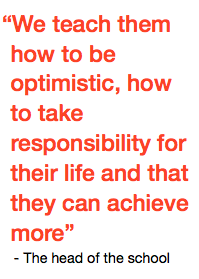 After taking to some of them I learned that they now have hope for going to the University. Although just a year ago they didn't see another future than helping their parents to run small shops.
Communicating with the volunteers, students of Kunming Universities, the children develop new aspirations and start thinking bigger. The volunteers admit, that actually they learn more here, by doing charity work than they learn at school. However, not everything is so careless. The whole school consists of two rooms, with the capacity for around 40 seating places. During my time there there were at least 60 children present for each class. The school also constantly needs books, pens and pencils and toys for presents.
There is a constant lack of human resources: "We really need volunteers. We only have 2 full-time staff. We can't do without help from volunteers like students, but they are always busy with homework, and it takes a long time for them to go to our part of town. Unfortunately we can't pay for transport."
Happy Ark accepts foreign volunteers, and would be glad to accommodate anyone who would love to help out with the running the school and teaching classes.
I feel very grateful that I had a chance to get to know the people who run such an inspirational project.
It is certainly a pleasure to provide the students with such educational opportunities that sometimes even children of very rich parents don't get in China.